Actively practicing law since 1973

Specializing in U.S. immigration & nationality law including asylum, adjustment of status/green cards, marriage & family-based immigrant and nonimmigrant visas, naturalization & citizenship, student visas, waiver of inadmissibility, work permits, and defense from removal in immigration court.

ADJUSTMENT OF STATUS

ASYLUM

CONSULATE PROCESSING

NATURALIZATION & CITIZENSHIP

IMMIGRATION COURT

STUDENT VISAS

WAIVERS OF INADMISSIBILITY

WORK PERMITS

Expert Immigration Lawyer

in the San Francisco Bay Area

Mr. Wu has been principal attorney in over a thousand non-immigrant visa, immigrant visa and immigration court cases
Award-Winning Law Practice
We're thrilled to announce that Jon Wu Law has just received an award from the American Bar Association's Commission on Immigration! Visit our Results page to see other awards and recognitions we've received.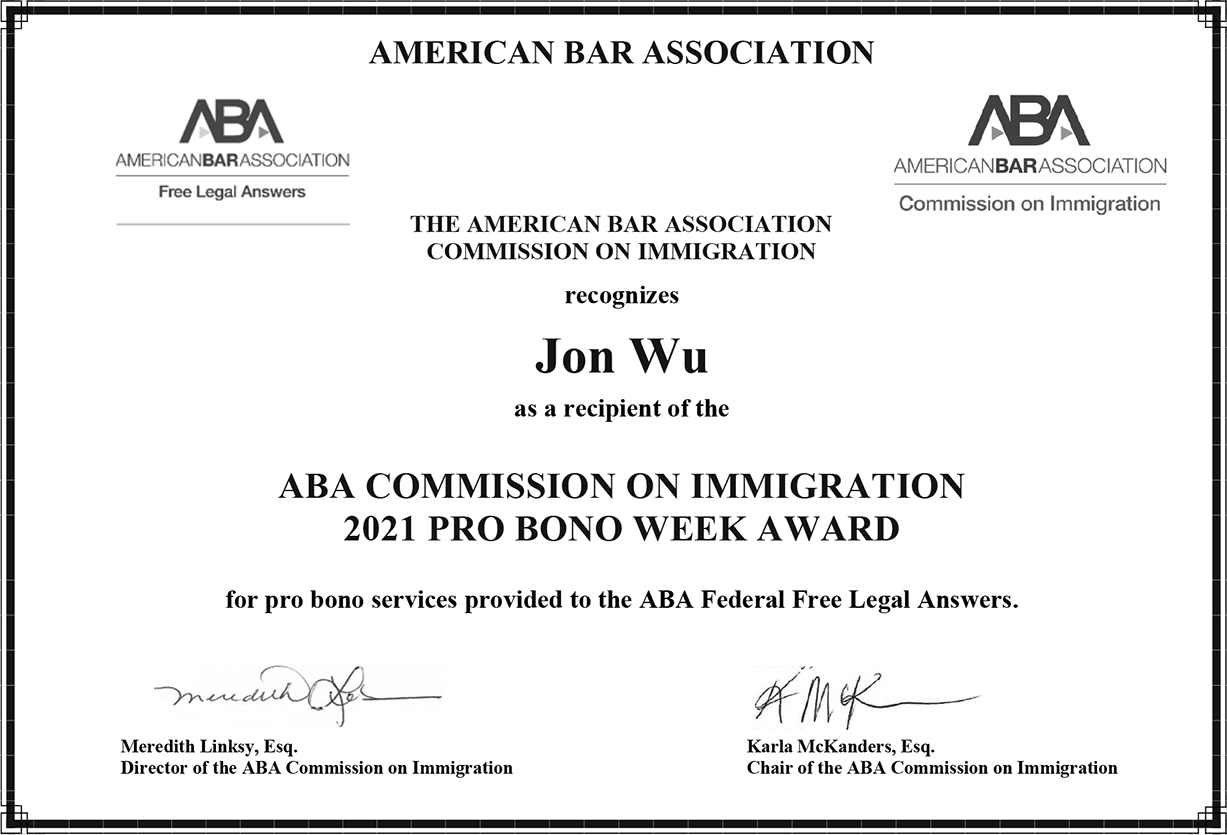 About Jon Wu
Jon Wu is a former chair of the Immigration and Nationality Law Commission of the State Bar of California's Board of Legal Specialization, and he is also a former administrative law judge of the State of Oregon Bureau of Labor and Industries. Mr. Wu also clerked for former Congressman Charles O. Porter in the congressman's Eugene, Oregon law office and has received thank-you letters and certificates of appreciation from Congresswoman Nancy Pelosi, the American Immigration Lawyers Association, and the Bar Association of San Francisco for service to the immigrant community.
Jon Wu aggressively defends foreign nationals and permanent residents of the United States from removal proceedings. He has represented clients in immigration courts in Miami, Los Angeles, Houston, New Orleans, New York, Portland, San Francisco, and Reno. He thrives in assisting foreign nationals, lawful permanent residents, and United States citizens to complete family immigration.
50 years in law
Jon Wu recently celebrated his 50th year in active practice — read about it here.